We can provide custom configured turnkey systems for size reduction and material handling within our Bengal Machine family of equipment manufacturers.
We are the only fully integrated group of size reduction equipment companies that can offer complete turn-key systems for all stages of size reduction, and material handling and conveyance equipment as well. No matter your process, or production goals, we can help get you there.
Contact us today to find out more about how Bengal Machine is your one-stop for complete turnkey systems to improve your process results.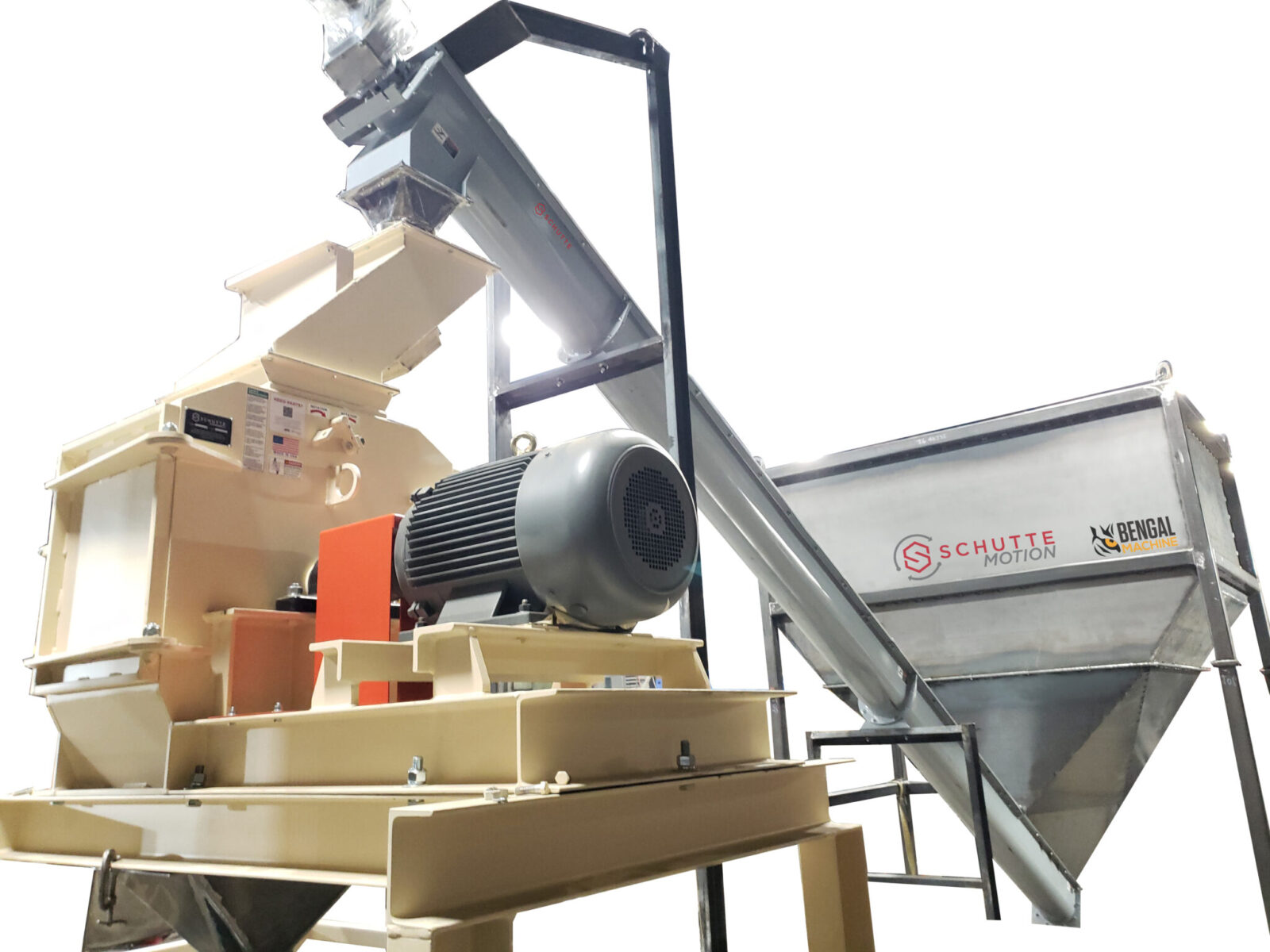 This system featuring our Circ-U-flow full circle screen hammer mill was configured specifically to process biomass and plant material while sizing it to the customer's desired particle size suitable for the downstream process. The system has a production rate between 1-2 ton/hr. The large in-feed hopper was built to tie into the customer's dryer system upstream of our system. Because of the facility limitations, we configured the Schutte Motion discharge auger conveyor to be flex type in order to reach much higher discharge elevation without taking up too much distance. The product will feed a discharge surge hopper to stage material for further downstream processing.

Our Dual shaft lump breaker integral to surge hopper and Schutte Motion belt conveyor feeds a Schutte Hammermill model RA-16-L dual stage hammer mill to reduce in-feed material to a fine powder for reprocessing. Because the material comes in various shapes and sizes, they are difficult to feed into the hammer mill. By crushing them first in the lump breaker, to a more uniform free flowing size, the hammer mill can process efficiently with the metered rate of in-feed material. The product is then conveyed pneumatically from the hammer mill making the whole system dust free, turn key, and optimally efficient.